03/05/07
Using CT scanner, scientists gain new view of 2,000-year-old mummy
A "digital dissection" using sophisticated CT scanning technology yesterday changed the way scientists viewed a 2,000-year-old mummy of an Egyptian child.

They now suspect that the youngster was a boy about 4 or 5 years old who was missing a right front tooth and was around 21/2 feet tall. He appeared to be developing normally and likely died of an acute cause, perhaps an infection.

Before the scan was conducted, experts at the Carnegie Museum of Natural History and the University of Pittsburgh School of Medicine had thought the child was 8 or 9 years old and had an unusually large head, suggesting that a genetic condition might have contributed to his death.

The mummy had been X-rayed in the 1940s and in 1986, but a hands-on examination of such a precious artifact is unthinkable in scientific circles.

Instead, "we've unwrapped it by examining it with clinical diagnosis tools that we use in ordinary people," explained Dr. Jeffrey Towers, chief of musculoskeletal radiology at the medical school. "We've done a digital dissection of this specimen, leaving the specimen intact."

While anthropology curator Sandra Olsen and other experts from the museum and medical school watched, he toured the mummy from tip to toe and back again, noting the head was bent forward so the chin rested on the chest, the arms were crossed over the chest with the hands at the shoulders, the spine appeared curved, and more.

"There are 1,700 images here, so this kind of takes a while," Dr. Towers noted. As is typical in mummification, the brain, heart, intestines and other organs were removed.

Refinement of the scans vividly revealed that an 8-inch wooden stake had been inserted into the skull and through the upper spine, possibly to support the head during preparation of the remains. The finding prompted a lively discussion of how the embalmers got it into place.

"They rammed that in there, I think," Dr. Towers speculated. "That's a pretty dramatic picture."

Other curiosities included what appeared to be a bit of bone near the nasal cavity "that's not ordinarily there. I don't know what to make of that."

There was no obvious indication of the cause of death, Dr. Towers said.

"Could have been pneumonia, could have been a lot of things," he said. "I don't see evidence of physical trauma, other than the preparation that was performed. I don't see evidence of a genetic disease or a developmental disease."

Carnegie Museum scientists initiated closer study of the mummy because they had thought the child had an enlarged head, or macrocephaly, and wanted to figure out why. If the child were 8 or 9, as once thought, the head would be disproportionately big. But if detailed dental scans support preliminary findings indicating an age between 3 and 5, the head size could be normal.

"One thing to analyze, which we will be looking at, is the circumference of the head in relationship to the shoulders," explained Tanya Lucio, a Pitt medical student who is working on the project. "That's how we're going to determine whether it does have macrocephaly."

The mummy dates to Dynasty XXX of the Early Ptolemaic period, from 380 to 250 B.C. It was found in a cemetery in Abydos, Egypt, with 11 others, including four children. They were all decorated with masks, breastplates, leg panels and foot coverings for the cartonnage.

The museum acquired the mummy in 1912 from Swiss Egyptologist Henri Edouard Naville. It has been on display for most of the last 50 years, and will be returned to its spot in the Walton Hall of Ancient Egypt on Monday.

Findings from yesterday's CT study are preliminary, but intriguing, Dr. Olsen noted.

But "the great thing about working with the medical experts is they have to turn around the results so fast because of living patients," she joked. "If you depend on archaeologists, it could take a while. We're in no hurry."

In addition to determining the sex and age of the child, the researchers hope to create a three-dimensional computer image of the head for exhibit, as well as study.

"One thing I've always found in archaeology is that you will answer some questions," Dr. Olsen said. "There will be surprises, there will be things you never thought about that will come out."

The scans will make it possible to develop an exact cast of the child's skull, which can then be given to an artist for reconstruction. More than 2,000 years after death, it might be possible to see the child's face.

Fuente: Post Gazette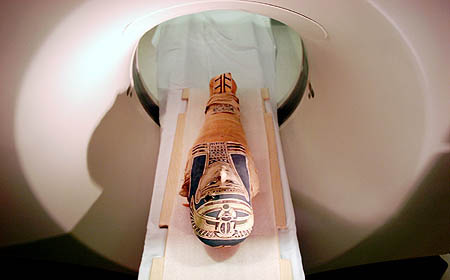 The Carnegie Museum of Natural History mummy journeys through a CT scanner at University of Pittsburgh School of Medicine yesterday.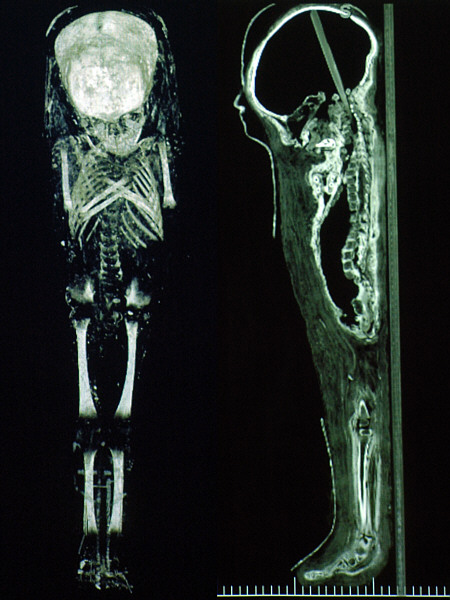 A CT scan of the Carnegie Museum's child mummy.